Articles
How Can You Make Grooming Fun?
May 10, 2021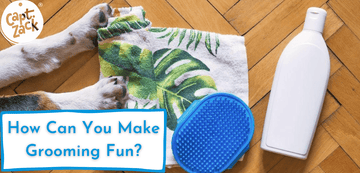 "I don't enjoy a relaxing spa session" – said No One Ever!
Grooming is an extremely important part of your pet's life. 
A well-groomed pet is not only healthy but, an absolute pleasure to be around. A lot of time is spent interacting physically with your pet. You are continuously snuggling, cuddling, playing, hugging, kissing, sleeping, training with your pet.  The list is endless, and we all know that our pets are family. 
Starting a grooming ritual at home is non-negotiable. As soon as your pet comes home, a grooming routine needs to be put into practice. 
Hence, the importance of grooming cannot be stressed upon enough. By skimping on regular grooming sessions or not doing it correctly you inch towards unwanted and absolutely avoidable health complications.  
It is highly recommended that as soon as your pet is 3 months old and all its vaccinations are complete (after checking with your vet) you take your pet to a professional grooming salon to ensure a thorough job. This will ensure that as your pet grows it will get used to a salon grooming which will be absolutely essential throughout its life.   
Grooming does not need to be a harrowing experience for the pet and the pet parent. It should be fun and relaxing. Small tips and quick hacks can make a world of a difference.  
Here are a few quick tips and suggestions to assist you in ensuring your darling furry friend and you have a stress-free grooming session:
1. Keep the grooming session short 
2. Give them loads of compliments and love. They will react positively and excitedly 
3. Get your pet used to gentle stimulation like combing and massages early on
4. Use pet wipes for puppies and kittens 
5. Keep their favorite treats at hand and give a treat each time they allow you to do something 
6. Get them a 'Grooming Toy' exclusively for bath sessions. Give this toy to your pet only during their bath time 
7. Pets are relaxed if you are relaxed. Play some soothing music 
8. Gather your grooming supplies and keep them within reach so as to not keep moving around 
9. Post their walk, clean their paws with pet wipes and comb them for at least 20 minutes so they get used to a regular grooming routine 
10. Slowly and steadily start taking them to a professional grooming salon to ensure a thorough groom and to get them used to a salon for future grooms 
 A happy grooming experience makes for a cheerful, healthy, and relaxed pet! 
Article by Juhi Pawar (Pet Grooming)