Articles
Benefits Of Ashwagandha For Dogs
Dec 07, 2021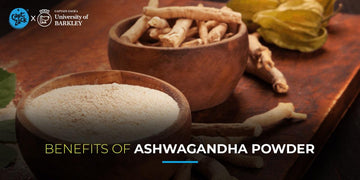 Ashwagandha is one of our favourite Ayurvedic herbal remedies for cats, dogs, and other pets. We use it extensively for the many benefits in maintaining pets' health and wellbeing.
Adding this super herb to our pet's routine diet can make their meals healthy and delicious. This plant is found in Asia and Africa, and humans have been using it for their immunity-boosting, stress busting, and many other properties since ancient times. 
While this herb has incredible health benefits, rationing the exact quantity of this herb to be included in our pet's daily meals can get tricky. Luckily Captain Zack has launched their Homestyle Very Veggie Paneer Pulao and Healthy Homestyle Really Real Chicken Pulao (Non-Veg), which combines taste, nutrition, and natural ingredients like freshest vegetables, healing goodness of Ashwagandha and turmeric, and all the love and care of a meal prepared at home.
Enriched with the ayurvedic goodness of Ashwagandha and Turmeric, this healthy homestyle ready-to-eat fresh meal helps in boosting immunity, reducing anxiety, and calming your pet.
Fresh, wholesome 'Ghar ka khana' is nutritionally balanced and infused (cooked) with ayurvedic herbs to increase your doggo's life.
The benefits of giving you dog ashwagandha are many, so let us talk about some of them here:
1.Anti-inflammatory:
By giving your pet ashwagandha, you reduce or remove swelling or inflammation caused by the immune system, these inflammations can persist for days, and this can cause heart disease, diabetes, arthritis, depression, and even cancer.
2.Anti-tumorigenic
This benefit of Ashwagandha prevents the formation of tumors in your dog's body. Tumors are becoming increasingly common in dogs and could prove lethal in many cases
3.Assists in maintaining nervous system functioning
The nervous system is a complex, highly specialized network. It organizes, explains, and directs interactions between your dog and the world around them. That is why it is necessary to maintain the smooth faction of the nervous system.
4.Boosts immunity
Immunity is a condition of resisting disease and preventing the development of a pathogenic microorganism that may enter your dog's body put; in other words, the more immune your dog is, the healthier they will be.
5.Calms effect on nerves
There are many things internal and external factors that can stress your dog, from loud noise to unknown people and even not getting their favorite treat; Ashwagandha helps them keep calm and not put too much pressure on their heart
6.Helps maintain relaxation
Our dogs are constantly bombarded with many smells and sounds that may make it harder for them to relax. Giving them a nourishing meal with Ashwagandha helps them relax and keep their stress levels lower.
7.Prevents cell damage
When these healthy cells are weakened, they are more susceptible to cardiovascular disease and certain types of cancers; since Ashwagandha is an antioxidant, it helps maintain cell health and prevents damage.
8.Promotes the body's resistance to harmful pathogens
Pathogens are bacteria, viruses, or other microorganisms that can cause disease, and a dog's body needs to prepare to resist them to prevent falling sick. Ashwagandha gives them the nutrition required to be ready.
9.Reduces anxiety
After obesity, anxiety is the biggest reason for a dog's heart condition. Several factors contribute to that; we cannot change most of them, but we can help reduce their anxiety by giving them Ashwagandha.
10.Supports normal cardiovascular function
Since ancient times, Ashwagandha has been used to maintain normal heart functions in Ayurveda. It cannot be stated how important a healthy heart is for survival, and giving your dog ashwagandha can help keep it healthy.
Buy Captain Zack's Ready To Eat meals right here!
#HealthyFoodForPets #BestDogFood #DogFoodRecipes 
Article By,
Pallav Gupta
Certified Canine and Feline Nutritionist
Head Nutritionist, Captain Zack