Articles
Best Dog Shampoo And Grooming Products To Keep Your Pooch Smelling Fresh
Feb 22, 2022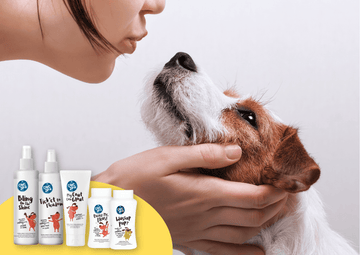 As a pet parent, you realize the importance of finding the right grooming products for your pet in hopes of keeping them clean and healthy. And, given their active lifestyle and behavior, it is not an easy task, as they tend to get dirty and smelly quickly in their playful games.
So, similar to how we use soaps and self-care products, they have products that are specifically designed for their use and needs. It is not plausible to use human products on their skin because their pH is different, and the products may cause allergies or simply fail to perform the required need.
There are many products on the market, with more being released every day, and the most common one is shampoo. And it's because dog shampoos are simple to use; just take some in your palm, rub it over their coat, and spread it evenly so you can lather it up and wash. Voila, it's done! And then, pat them dry with a towel.
Using shampoo to clean your dog is also better than giving them a simple water bath because it helps to remove dirt, germs and bacteria from their coat leaving it smelling good. So, with a good shampoo, they can stay healthy and feel fresh. These dog shampoos are mostly developed to treat common issues like dry coat, dandruff, itchiness, and fleas. That is why the shampoo you use is the key to having a relaxed and pleasant bath. Because they not only keep the infections away but also keep the coat looking shiny and healthy.
These are made with a pH-balanced formula and aid in keeping the skin's pH within that range. Also, it is recommended not to use human shampoos and products on them because their pH values differ and may cause an imbalance on their skin, leading to infection, allergies, and skin diseases.
It may be hard to pick the right shampoo for your furry friend, but let's go natural!  You don't have to worry about harsh reactions, excessively dry coats, or too much hair fall because natural actives based products contain no nasty chemicals.
Captain Zack's dog shampoo and conditioner is just what you need! With natural actives like citronella and aloe vera in the shampoo, it not only repels ticks and bacteria, but also protects them against skin infection, itchiness, and improves overall skin quality. You can also use it on a weekly basis. They also have a dry shampoo for dogs, which can be used on hydrophobic pets or in between wet baths to save time while still helping them feel clean and fresh.
To soothe and hydrate the skin, the conditioner contains shea butter, Jojoba oil, and cucumber seed oil. It is recommended for bi-weekly use. This leave-in conditioner is designed to provide intense conditioning without requiring rinsing. So you can use these in-between baths to keep their coats shiny and glossy.
Because of their natural actives and lack of nasty chemicals, both the shampoo and the conditioner have moisturizing and conditioning properties. As a result, they do not irritate their skin with dryness but rather act as calming and relaxing elements during their bath.
The dry shampoo for dogs helps to detangle their coats as well as maintain daily hygiene so that they can be healthy and active. So try out their shampoo and conditioner for your dogs and feel the soothing difference.