Articles
Best Place To Order Pet Supplies Online
Feb 22, 2022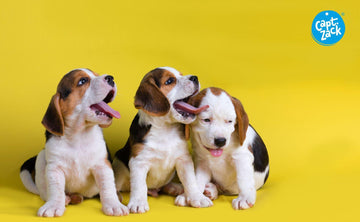 When it comes to our pets, we always want the best for them. We want them to be healthy and at their best all of the time. The same is true for their products.  With so many products and brands releasing products with so many new benefits every day, it can be difficult to choose the one that is best for them.
 And, in today's world and lifestyle, more and more people are preferring online stores over physical ones because they not only save time but also allow you to browse your options whenever and wherever you want. Choosing a pet supply store online is easy but not at the same time. Because there is a chance that even the famous products could cause an allergy or infection to your pet.
Natural active and essential oil based pet care products are another good solution. These are mostly made with natural ingredients and are free of nasty chemicals, so you don't have to worry about an adverse effect. Captain Zack is one such pet shop online in India that offers naturally made ingredient products that are Clinically Tested to be Hypoallergenic and are pH balanced so that they do not irritate your dog's skin or coat. The pH-balanced shampoo, Ready-To-Eat Healthy Homestyle meals and puppy treats are available for breeds of all ages and sizes, allowing them to stay healthy and active while improving the overall quality of their skin.
Puppy shampoo contains ingredients such as Lavender, Aloe vera and Citronella, which not only act as a natural repellent against bacteria and infections but also as an anti-irritant and anti-inflammation agent. Along with dry shampoo for hydrophobic pets, they also have dog wet food, puppy treats in a variety of flavors that are either retorted, dehydrated or freeze-dried, allowing them to be preserved for longer without the use of artificial preservatives while not compromising the flavor.
Many pet care products are available here, including shampoos, food, beds, mats, treats, and accessories such as combs, towels, etc. Made with pure love and care, these accessories and toys available here are soft and safe for them to use.
Not only that, but if you love cats, this pet supply store has cat products just for you! This store has products for all of your grooming needs, from foods to shampoo to towels and serums. There are also toys for them to play with, which are made of crochet and come in a variety of shapes and colors, making them both safe and enjoyable to play with. You can easily maintain their health and hygiene by using gentle wipes and sulfate-free shampoos. Made for a sensitive, dry, and delicate skin, they are less foaming and anti-bacterial making them the ideal kitten and cat products. These, infused with natural actives such as lavender,  give a calming and soothing effect during their baths. And, because of its natural properties and deodorizing Lemon grass active, it is ideal for weekly use.
The majority of the products at this pet supply store contain moisturizing and conditioning properties, so you won't have to worry about dry skin or itching after using a shampoo or spray.
Check out the store today and order the best ones for your