Articles
Best Gifts For Your Dog
Feb 16, 2022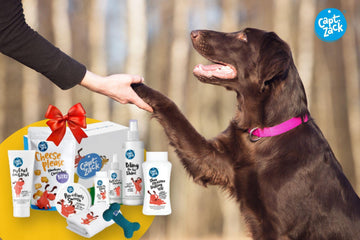 Don't we all enjoy receiving gifts? The same is true for our canine companions! Even though they enjoy the act of unwrapping the gift with their teeth and paws far more than the gift itself. However, seeing them enjoy the present also brings a sense of satisfaction and joy to our hearts. Playing with them with that new toy or adorning them in that new accessory you got for them is just as endearing.
Ordering gifts for them is very simple these days. There are numerous options with pet care products, as well as numerous stores and products that are easily accessible. But, because we always want the best for our dogs, we sift through those options to find the best ones to give them, as we always do for our loved ones. With natural products becoming more popular due to their lack of nasty chemical formulas and the presence of organic ingredients, brands are developing products that are natural and ensure your dog's safety as well as a fun-filled time.
Pet care products are one of the most popular gifts because they can be used to improve their health and lead an active lifestyle. Captain Zack is one such online store that offers a wide range of products for your pet's needs. Whether it's dog food, toys, accessories, or grooming supplies. These are made with safe natural actives and essential oils and come in a variety of flavors, letting you select the ones with benefits that your dog specifically needs.
Celebrating your pet's birthdays and special occasions just got tastier and way cuter with our Captain Zack's pupcake premixes. It's easy to bake, gluten-free, and will have its tails wagging so quickly, it might just blow the candles out. It comes in two flavors - Oats De Chicken & Banana Le Crunch
Made with Human-Grade ingredients, these easy to make pupcake premix are perfect for your pupper's pawrty.
One packet makes ½ Kg cake or 12 individual pupcakes
This scrumptious quick and easy-to-make pupcake can be made in the oven, microwave, and even pressure cooker!
Dog treats are mostly dehydrated and have light crispy flavors that are both nutritious and tasty. Depending on the flavor, these are infused with various nutrients such as minerals, vitamins, and calcium for your pet's better growth, bone development, and healthier coat. The treats are also a gift for your dogs during training sessions, so they can enjoy a tasty, fun, and nutritious snack with their learning experience.
The various dog shampoos available here for itching, ticks and fleas, sensitive skin and dry coat. These are infused with natural actives so that their coat does not dry and cause hair loss, as is the case with many chemical-based shampoos. The conditioning property in these dog shampoo nurture the coat while the shampoo protects your furry companion from environmental infections, fleas, ticks, and diseases. For hydrophobic pets, hydrophobic shampoos are also available for a quick clean-up session in between wet baths.

Dog toys are also among the items available. Even if toys do not pique your interest, they help your dog avoid boredom when they are alone at home and also help them maintain a healthy lifestyle by keeping them active. You can also bond with your pet through toys and play with them whenever you're at home. These toys not only give them something to do constantly but also provide them with comfort when they are nervous. The crocheted toys are soft and safe to play with because they are made of thread, so you don't have to worry about them putting it in their mouths or coming into contact with their skin. Because there are no chemicals in these, there will be no adverse effects, ensuring a rather enjoyable time for your pooch.
With products made of love and loads of nutrients, try gifting them to your pet and make them happy!