Articles
Ways To Make Your Pet's Valentine's Special Like Never Before With Captain Zack Products
Feb 11, 2022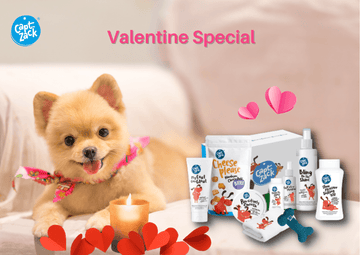 Although furry friends are pampered throughout the year by their parents- this Valentine's Day- they are in for umpteen kisses, gifts, cute candlelight dinner and more. Pet parents take the opportunity on valentines day to show gratitude towards their pets and thank them for unconditional love. Valentines is a festival of love and is almost here, and while you're planning on sending out cards or a nice bouquet to your loved ones, let's not forget one of the most important people in our lives: our pets. The unconditional love they have can be celebrated in a manner like never before with Captain Zack products offering you the best option to pamper your buddy and make it an unforgettable day. Our  range takes care of your buddies completely and you can make the day most memorable for them and you which makes memories that last a lifetime. Captain Zack pet care products are chemical free and made from natural ingredients because we believe that our buddies deserve the best care and our dog groom box has everything you need.


Whether you have a kitten or a puppy, celebrating Valentine's Day with your pets can be fun and filled with memorable moments that you'll cherish for years to come. After all, pets show extreme love and are usually the first to be by your side when you are feeling down. Get your furbabies valentine ready with Captain Zack Products!
We at Captain Zack will work towards making everyday with your pet a valentine's day.

Use code 'CZVALENTINE' to get extra 10% off on all products.
(Offer valid till 15th Feb'22)