Articles
Captain Zack's Healthy Homestyle Ready To Eat Meals
Dec 08, 2021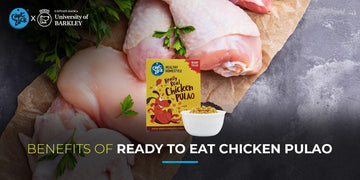 We exist to help create a world where our pets live longer, healthier, and more comfortable lives. Captain Zack has been consistently making it easier for pet parents to achieve this for their pets by providing safe and quality products. 
Captain Zack has always worked on perfecting and upgrading our products to ensure our pet and our new line of pet food is a prime example of that. We at Captain Zack have always believed in giving the best quality for our pets to make sure they have a long and healthy life. We know that you are what you eat, and that applies to your dogs as well. 
Why should you choose Our ready to eat meals?
Homestyle Very Veggie Paneer Pulao and Healthy Homestyle Really Real Chicken Pulao (Non-Veg), which combines taste, nutrition, and natural ingredients like freshest vegetables, healing goodness of Ashwagandha and turmeric, and all the love and care of a meal prepared at home.
Enriched with the ayurvedic goodness of Ashwagandha and Turmeric and the wholesomeness of Sunflower Oil, this healthy homestyle ready-to-eat fresh meal helps in boosting immunity, reducing anxiety, and calming your pet.
Fresh, wholesome 'Ghar ka khana' is nutritionally balanced and infused (cooked) with ayurvedic herbs to increase your doggo's life.
No preservative, no added flavors, and no fillers:
We do not add any chemicals or fillers to our food and make sure we are giving the best for your dog
Human Grade meal:
Our meals only have the best ingredients, and the food is cooked in an FSSAI certified kitchen. The food is so healthy and delicious; even humans can eat it.
Convenient:
People say good things don't come easy; that's why we have done all the hard work for you. All you need to do is open the packet, put it in your dog's bowl, and serve.
Complete meal:
The food has been formulated by canine nutritionists and vets, making sure we fulfill all your dog's nutritional requirements
Gluten-Free:
Our food is 100% gluten-free; we do not add any ingredients with gluten in it. We use unpolished brown rice to fill your dog's daily carb requirement. 
No animal by-products:
We do not use animal by-products; we only use the freshest human-grade meats because your dog deserves the best.
Ashwagandha and Turmeric
Our meals are packed it the goodness of ashwagandha and turmeric, giving the food anti-inflammatory, calming, anti-anxiety, and other healing properties.
Long shelf life:
The food had a shelf life of 2 years in its packaging; this makes it easy to store and travel. 
Palatable:
Your dogs will love our new meals; they are fresh, packed with flavor, and tastes fantastic. No dog would say no to our meals.
Does not need to be refrigerated:
Our food is fresh and without preservatives but does not need to be sitting in your fridge. We use packing technology that can keep your dog's food fresh without having to keep it frozen.
Buy Captain Zack's Ready To Eat meals right here!
#HealthyFoodForPets #BestDogFood #DogFoodRecipes 
 Article By,
Pallav Gupta
Certified Canine and Feline Nutritionist
Head Nutritionist, Captain Zack