Articles
Dry Shampoo To Keep Your Dog Clean During Wintertime
Feb 07, 2022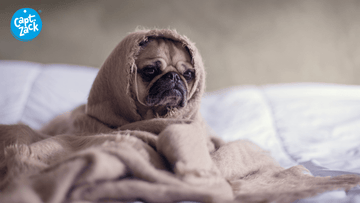 Bathing your dogs must be difficult with the holidays and the dry air surroundings. And we all know how difficult it is to get them in the bath in the first place. It can be tricky to manage your pet with water and shampoo all around. However, hygiene is needed for this weather because they may pick up bacteria and germs from their surroundings. It also helps to avoid any matting, fleas, and notice lumps or bumps while grooming.
And new products are released every day to make your life easier. When you don't want to use water and avoid a messy bath, use Dry Shampoo For Dogs. Things are much easier with this. You can bathe them whenever you want with a quick bathing session. It aids in removing oils and dirt from their coat without the need for rinsing. The liquid material foams on their coat, which you can then lather and rub or brush over. Wipe them down with a towel after the shampoo has dried. Easy to use and convenient, isn't it!


There are many different brands of Dry Shampoo available nowadays, but many of them may contain chemicals or artificial fragrances that may cause allergies or rashes on your dogs. Organic dry shampoos are becoming more popular as people have started to prefer natural products. Captain Zack is one such online store that produces all-natural and organic products for your pet's safety and well-being. The paraben-free and pH-balanced products protect your dog from any negative effects. Designed specifically for hydrophobic pets, these contain natural botanic actives such as lavender, aloe vera, and oat protein.
With this waterless dry shampoo for dogs, you can keep them smelling fresh and clean in between baths while also having a quick bath during this cold weather. Because of the gentle no-rinse formula, it can be used daily without affecting their coat. Conditioning is the key to a healthy, glossy coat, making your pet feel energized and clean.
A clean coat will keep parasites, infections, and diseases at bay, allowing them to enjoy their days without feeling ill. Tick and flea repellant waterless shampoo, with lemongrass and citronella as main ingredients, repels ticks and fleas while also acting as a natural deodorizer and stress relaxant. The essential oils add fragrance to the shampoo while moisturizing their coats. Made from nature's finest ingredients for your peace of mind and your pet's happiness. The ingredients used have anti-bacterial, anti-irritant, and nourishing properties that leave their skin soft and healthy-looking. Lavender oil soothes pets who are stressed out by bath time, also helping in wound healing and avoiding skin infection.
Available in packs of 3 or 1, buy the one you need and help your dog live an active and stress-free life. Bling on the shine is affordable, with a variety of offers and with sets available. Buy this shampoo today to minimize your pet's odor and soothe their skin with the healing properties of chamomile so they can enjoy their holidays with a clean coat and active spirit.