Articles
New Year Resolutions for Pet Parents
Jan 06, 2022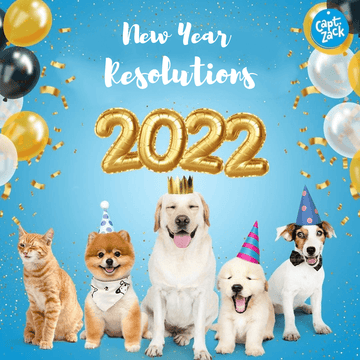 Hey Pawrents,
The start of a new year is a huge motivation for all of us to make our list of resolutions that we hardly follow. 
This 2022 year, we urge you to be a bit different, and let's take a step towards taking care of our furry ones. 🐶 🐈
With the love and joy that they bring us every day, we believe that the health and happiness of our furry friends should be amongst our top priorities for the New Year ahead. ✨🍷
1) Opt for Nutritious Healthier Food
Food is on top of every being's list. 
There are some important consideration you need to be aware of:
Choose Human Grade food, Healthy Homestyle Ready-To-Eat food which is nutritious & made with lots of love keeping in mind the good health of our pets.

Consult a Vet before starting any new nutritional diet.
2) Take them for regular walks
Add regular walks to their daily routine to keep them Healthy & Active.
As a general rule, you should walk your dog 3 – 4 times per day for at least 15 minutes.
Ensure to keep them bacteria-free post their walks with 
Captain Zack's Wet Wipes.
Simply pull one out, wipe dirt, and grime off­ the coat, and there you go — one clean pet ready to fall in love with. 
3) Train them well
Training is an essential part of parenting. Dogs are extremely smart & quick learners especially when offered their favorite
treats
as a reward. It is never too late to start training them no matter their age.
Dogs that have anxiety or more timid personalities can benefit from training.  It gives a sense of accomplishment and shows a way for us to communicate with our four-legged family members.  
This strengthens the bond we have with our doggo through positive attention.
4) Spare some time for their playtime
A good & interactive playtime session helps keep their heart-healthy, joints lubricated, reduces anxiety, and improves their Mental health.
Add some fun, safe and durable toys to their playtime. 
Crochet toys
will be a good choice as it does not have any toxic substance.
5) Focus on their Grooming & Hygiene
Good grooming is directly connected to good health. A clean pet is a healthy pet. Besides maintaining their hygiene, it's important to keep their surroundings clean.
Routine grooming sessions also allow you to examine your dog's coat, teeth, eyes, ears, and nails for signs of problems. How often you need to groom your dog depends on its size, breed, and type of coat.
If you are confused, start them with

 

Captain Zack's Groom Box. It has 9 essential grooming products depending on the breed you have. We have one for all!
6)  Regular veterinarian visits
7)  Keep chemical or toxic substances out of pet's reach
As a pet parent, you want to keep your furry friend safe and healthy, but your pet's curious nature sometimes can get them into trouble.
If you see your pet intaking such a substance immediately take it to the veterinarian.
Although toxicity signs may not be apparent, it is vital to remove poisonous material as soon as possible to prevent toxin absorption into the body.
8) Safe & Comfortable space for them
Dogs need a lot of love and attention—but they also need plenty of space. Dogs are territorial animals, so it is important they have designated areas in your house to sleep, play, and hide out.
9) Gain knowledge on pet first aid
As a responsible pet parent, it's a good idea to keep him safe from unexpected accidents. Having the knowledge and skills of a Pet First Aid will help you to prepare for and remain calm & take quick action during an emergency. 
Put everything in one place,  like tweezers, antibiotic wipes, adhesive bandages, and 1 elastic bandage, etc.
To know more, you can connect with us in comments
or
talk to our vet
as well.
Have a Paw'fect day!
High-fives,
Captain Zack 🐾