Articles
Importance of Pet Sanitization
Dec 12, 2020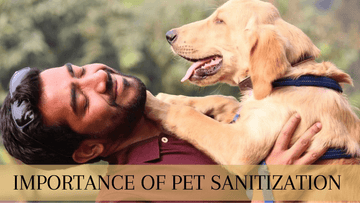 Your floof and you make a trip to the park for a day of frolic and fun. As much fun as it is to play with his fellow fluffy friends, carrying home germs and bacteria is always a big no-no. Pets as loyal and friendly they are, being clean is not their priority whatsoever at any point of time. Which makes it your responsibility to take care of your furry pal. What do you do when your pet after a great fun day at the park, brings home germs and bacterias from all around. These can be as harmful to humans as they can be to pets. Would you really want to risk the safety of your floof as well as you and your family? What if we said there's an easy fix to this problem? 
Pet care products to help you resolve this are now available in the market. Captain Zack's PetMe Range is specially formulated for your pet's sanitization needs. It is made using absolutely no alcohol or synthetic chemicals. All efforts are taken to make it completely safe for your pets well-being. It is non-toxic so not to harm your pup in any way or cause any side effects. This range includes alcohol-free pet sanitizer - PetMe, I'm Sanitized! as well as the Super Pawesome & Safe Floor Cleaner - PetMe, My Floor Is Sanitized!. The formula is made with poly-herbal nano technology using Botanical extracts like Coconut, Maize, Orchid, Lemon and Lemongrass that have anti-microbial, bacteria killing, insect repelling and odour controlling properties.
You may ask why it's necessary to have sanitizer especially for your pet when you could use a human one. Well, you can't use a human sanitizer on your pet and that's a rule! Human sanitizers are harmful for your pet since they contain alcohol and a lot of other chemicals which will harm your pets skin. And your pets safety is our number one priority!
To ensure maximum safety we use poly-herbal nanotechnology which means the ingredients are broken down to their molecular state to ensure maximum effectiveness plus the blend of ingredients makes your pet smell fantastic!
This pet sanitizer is fully nature derived and vegan. It also kills 99.99% germs and leaves your floof's paws smelling and feeling clean and odourless. It comes with no breed specific restrictions and can be used for all kinds of dogs as well as cats!
Well, to ensure 100% safety of your pet making sure that their environment is clean and germ-free is important too. PetMe, My Floor is Sanitized! uses the same technology as our pet sanitizer to provide  a safe and germ-free environment for your pet in the most natural way possible!
Your pet requires the same level of safety as you do and PetMe ensures just that. Captain Zack pet products are totally safe and made 100% natural actives only!!
All the fun without the germs!