Articles
Give Your Pet The Right Winter Care!
Dec 07, 2020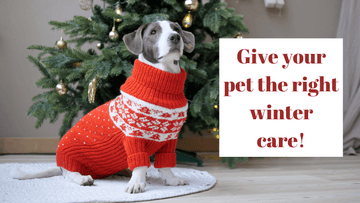 The mild winter that we receive in most parts of India, it's a season in which most pets are in fact in the best of health compared to the harsher Indian summers and monsoon. Yet there exist a few concerns, which when taken good care of, do further improve the wellbeing of our canine companions.
Tip 1: Avoid Frequent Baths & Use A Dry Shampoo For Daily Hygiene!
With the mercury falling, one must ensure that we give our pets a bath only during mid-day or warmer hours of the day, preferably when bright and sunny. Carefully check that the bath water is only like lukewarm. Hot water could be injurious to a pet's skin. Ensure you take special effort to towel dry your pet after the bath. Owing to the colder temperatures, depending on the breed and the pet's habits, we may reduce the frequency of wet water bathing. Opting for Dry Shampoo regimes are worth considering. For intense moisturization and daily hygiene, you can use a regime of Captain Zack's Bling On The Shine followed by My Coat Can Gloat and Pawsitively Smooth Pawbutter to keep their paws smooth.
Tip 2: Give Special Attention To Their Skin & Coat
With lower humidity, the air gets drier in winter months. Paying close attention to the pet's skin and coat wellness is to be considered. Nourishing the skin from both the inside and outside achieves best results.
Nutrition comprising of healthy fats and quality proteins is skin and coat friendly. Fish oils rich in Omega 3 fatty acids and eggs which are a complete protein could be included in daily diet.
Skin and coat dryness may lead to scratching, dandruff, fur shedding and dry paws. The skin surface of the extremities like the paws, elbows and nose may feel dryer and course due to greater exposure to the environment. Topical care of these areas would maintain them in optimal wellness. Any concern of excessive skin redness, itch and fur fall should be checked by your vet promptly. Opt for a moisturizing regime which will avoid these skin conditions amongst the pets and keep their coat healthy.
Use weekly TazSoothe Itch Relief Shampoo follow the baths with TazSoothe Leave-in conditioner. Regularly, you can use Captain Zack's TazSoothe Biphasic Oil which deeply penetrates the pet's skin giving it an intense nourishment. Use of a safe and natural dog paw cleaner is a must
Tip 3: Be Proactive About Protection From Ticks & Fleas!
Since our winter is not too harsh, ticks and fleas will continue to be a concern that we must most aggressively and actively prevent and protect our pets from. These parasites are now commonly a all season, year-round menace. Prevention is always better than cure and we must ensure we are a step ahead of them always! Tick fevers are a serious health risk, enable your vet to check your pet for any signs of dullness, lethargy, appetite loss, nose bleeds etc. A best preventive care would be Captain Zack's IRradicate Tick Repellent Regime which is formulated with a proven tick repellent ingredient IR3535 by Merck, Germany. A diagnosis is to be done with a blood test, Snap test and PCR test. Also do not forget to give regular deworming medication to your pet as advised by your vet.
Tip 4: Early Diagnoses for Joint Ailments In Senior Aged Dogs
Dogs who show any difficulty in sitting up or walking must be checked by a competent pet animal vet to diagnose and properly manage Osteo Arthritis. Early diagnosis with correctly positioned X-rays taken under mild sedation are needed to best manage the condition and provide good relief to the patient. Do not give any human medicines.
Tip 5: Make Sure They Maintain Distance From Heating Appliances To Prevent Accidents.
If electric heaters or burning coal is used at home, take utmost care that pets do not accidently reach or come in contact with such appliances. Also do not use and electric heating pads or beds for pets as this would lead to serious burns and injuries.
Tip 6 : Provide Warm Bedding For Your Community Street Dogs & Cats
As a caring pet parent do give thought to the lesser fortunate street animals and do try and place jute gunny sacks for them to sleep on. A warm meal would be a great treat for them too!
Tip 7: Keep Them Hydrated!
We always think of water requirement in hotter climate. The importance of hydration is as important in the cooler winter too! Possibly pets will consume lesser water in winters. To ensure a pet is well hydrated, change the water in their bowl frequently. Add soups or stocks to their meals.
Tip 8: Respiratory Conditions In Short & Flat Snouted Breeds
Breeds like the Pug, Shih tzu, Bulldogs may have difficulty breathing due to the atmospheric air being dry or any increased air pollution levels in the winter. Always avoid self-medication or any human medicines. Only use medications advised by your veterinarian.
Tip 9: Maintain Adequate Exercise & Walks
While the indoors are more cozy, do not allow this to deter you from continuing to provide good outdoor walks and exercise for both you and your canine companion!
Tip 10: Caution Against Christmas Celebration Pet Hazards!
With this season bringing festivities of Christmas and New Year celebrations, be alert that none of these spell doom for your dog. Do not ever feed any chocolate, raisins, grapes, avocados, beer, wine or alcohol, high fatty meats or cold cuts and chicken or turkey bones to your dog. Guard against your pet raiding your garbage bins! 
Wishing your furry pals and you all the winter cheer and festive greetings!
Warmest wishes,
Jamshyd K. Cooper,
Head Veterinarian.