Articles
PET FRIENDLY HOTELS
Jul 20, 2021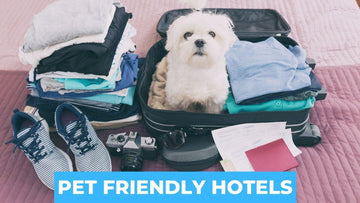 PET FRIENDLY HOTELS
Lockdown has created a havoc in many lives. The urge of going out and enjoying with family, friends and mainly your pets is increasing by the day. However being pet parents many of you are worried about the little ones. That face your pet makes as soon as your suitcases come out and their brown puppy eyes really melt your heart don't they? Moreover spending so much time at home with your pets makes it even harder for you to leave them behind, so here's a list of pawsome hotels and resorts where you can travel along with your pets and have a fabulous time without any guilt of leaving them behind.
1.THE GATEWAY RESORT DAMDAMA LAKE GURGAON, HARYANA
This is a beautiful property located just 45kms away from the Indira Gandhi airport Delhi. Its located in the foothills of the aravalis and is just 50kms away from haryana's largest lake (damdama) giving the property a stunning view. Your pets are going to love the lsuh green lawns at this property.
Tariff from Rs 13,500 per night for a superior resort room; gateway.tajhotels.com
2.FOUR SEASONS HOTEL MUMBAI, MAHARASHTRA
Want to unwind in a jacuzzi after a hectic week? While you pamper yourself at Four Seasons Hotel Mumbai, your pet can make the most of the hotel's endless lawns (as long as he's on his leash, weighs 7kg or less, and does not make excessive noise). Pet supplies are just a phone call away, and pet bedding is provided too. Spoil him with five-star pet food, pet beds and toys while you detox in this crazy metropolis.
Tariff from Rs 10,000 per night for a superior room; fourseasons.com/Mumbai
3.JAPALOUPPE EQUESTRIAN CENTRE, MAHARASHTRA
Run by a mother son duo is this amazing property on the Bombay Pune highway. This place is home to about 50 horses many geese, ducks, cats, bunnies, a turkey, Mini the pig and, of course, dogs. Your pets will have a ball here interacting with these animals.
Tariff from Rs 2,400 per night for a cottage and ₹1,700 for dormitories; japalouppe.com
THE WHITE PEAKS, UTTARAKHAND
Tired of abiding by the rules and regulations of hotels towards your pets? Then this is the perfect place for you. Dog lover Aparupa empathises with all things dog-related. A pet parent could not ask for a more understanding host. Being surrounded with a jungle long walks with your pet are made easy. Its the perfect place for a rules free trip with your best friend.
Tariff from Rs 4,000 per night for a cottage; thewhitepeaks.com
5.THE HIMALAYAN VILLAGE, HIMACHAL PRADESH
While you enjoy activities like river crossing, nature walks, rock climbing, mountain biking, river rafting and trekking your pet can enjoy the huge open spaces and can explore new sights and smells. This property is 6km away from Kasol and is surrounded by the deodar forests hence making it nature friendly aswell.
Tariff from Rs 10,000 per night for a cottage; thehimalayanvillage.in
6.CASA DE XANTI, GOA
This authentic Portuguese cottage in South Goa can comfortably accommodate up to nine guests. With plenty of space in the garden, there's ample room for your dog to run around or laze in the grass. You can indulge yourself in activities like scrabble or lounge in the hammocks.
Tariff from Rs 6,000 per night; https://www.vistarooms.com/villa/casa-de-xanti
7.ANDAZ, DELHI
This hotel not only caters to cats and dogs but also to fish. You can ask for dog bowls, Dog Shampoo for ticks, dog shampoo for fleas, dog tick repellents, cat food and bowls and food for your fish and they have it all.
Tariff from Rs7,500 per night; an additional Rs2,500 + taxes for a pet; https://www.hyatt.com/en-US/hotel/india/andaz-delhi/delaz
8.OUR NATIVE VILLAGE, BENGALURU
You can have a relaxing weekend at this property and enjoy an ayurvedic massage at their in-house spa or taste some authentic cuisine food at their restaurant while your pets have a gala time with their inhouse pets.
Tariff from Rs5,000 per night; no additional charges for pets.; https://www.ournativevillage.com/
TAJ FISHERMAN'S COVE RESORT AND SPA, CHENNAI
Pets are only allowed in their villa-style or cottage rooms. The spacious private gardens beyond the villa-style rooms are sure to keep your pet happy and entertained. A villa-style or cottage room that accommodates four people.
Tariff from Rs 14,500 per night; https://www.tajhotels.com/en-in/taj/taj-fishermans-cove-chennai/