Articles
Why walking your Dog is so important!
Dec 15, 2020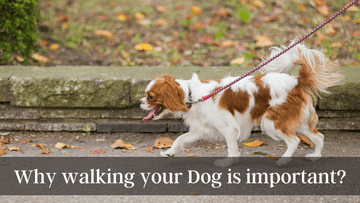 Dogs love to go for a walk! Have you ever noticed how a dog will furiously wag his tail and jump up and down at the mere mention of a walk? For a dog, it's not just about going out of the house but also about spending undivided time with their human, which they thoroughly enjoy!
However, most dogs are not walked by their owners but by dog walkers who sometimes don't care if the walk is as enriching as it should be for a dog. Many times, it's about walking the dog around for half an hour to 45 minutes and then bringing him back home. The dog may not even spend half an hour walking in the process, and may end up spending time sitting with his walker, waiting to be now taken home.
In a fast-paced city, one does wonder – after a long day at work, why would the human want to go and spend another hour walking their dog? What does the human get out of this? Why shouldn't the human take the dog out for his toileting business only?
Here are a few reasons why you should regularly go for a walk with your pooch:
Exercise – Every dog needs daily exercise. Depending on the breed of the dog the duration & intensity of the exercise requirement will vary. Walking is the most basic form of exercise that can be provided to the dog.
Mental stimulation – When you walk outside there are many scents, sounds and sights that mentally stimulate your dog. The energy that is spent to process all this information exhausts the dog very fast. Remember a tired puppy is a happy puppy.
Companionship – What do dogs love the most? Spending as much time possible with their humans. Walking gives you an additional avenue to strengthen your bond with your dog by doing something that he loves.
Make friends – Not only do dogs make friends, but you can also meet other amazing dog people during your walks. Your puppy can also meet other well-behaved dogs & thrive from that relationship.
Poo & Pee – When you teach your dog the do their business outside it reduces the task of cleaning up behind your dog in the house. But, always do remember to clean up after your dog. Nobody likes to step on poop!
There are a few basic things you need to keep in mind while taking your dog on a walk:
Right Collar & Leash: Make sure that you have the right collar for your dog. The size should be perfect so that it's not too tight & not too lose from which he can easily escape on a crowded road. The length of the leash should give your dog enough space to walk beside you but at the same time keeping you close enough to control the situation if needed.
Exercise requirement: Understand how much exercise your dog needs. Too less exercise will leave the dog with lots of energy and he could get destructive at home without a proper balance of mental & physical exertion.
Walk without pulling: Train your dog how to walk beside you. If your puppy is too excited about other smells and dogs, he will pull you all over the place. Walks will become less and less desirable for you and you will try to avoid them. With a lesser number of walks, your dog will get even more excited to go out and his behaviour will only get worse.
Pay attention: Always pay attention to your dog while on a walk. Don't get distracted by your phone. The walk is for you to spend time with your puppy and correct your dog's behaviour if needed. If you are going to be distracted and not in-the-moment you will miss vital signs. Your dog could be uncomfortable around other dogs, may not like walking through a specific route, is fearful of a certain type of people. When you are not paying attention to your dog, you might miss those subtle signs of discomfort that he is trying to communicate with you and soon he won't trust you to protect him.
Walking is a great way to build a relationship with your dog and get some exercise for yourself as well! Enjoy your walks. Go on a trek! Teach your dog well and you will have an amazing time together.
Blog by Captain Zack's University of Barkley