Articles
9 Unique Gift Ideas For A Dog Lover In Your Life
Apr 23, 2021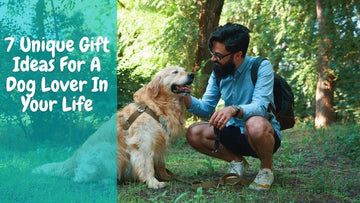 Dog lovers are unique kinds of people. They will never hesitate to pet a dog every time they come across one on the streets.  
You'll hear them talk about their dog almost all the time, and occasionally they will tell you how badly they want to add another member to the doggo family. Gifting may be a difficult task but it's all the easier if you have a dog lover friend. 
Just get him a dog-themed gift and you are good to go. But adding a little distinctiveness has never harmed anybody. 
Stick with us as we guide you through 9 unique gifts for a dog lover of your life.
1. A Pet Portrait 

A creative and unique way to please any dog lover would be a custom handmade painting of their dog. Think about a  Pet Portrait from PortraitFlip, and you will not disappoint your fur-frenzy friend.
All you have to do is send them the photos and you will have a wholesome handmade painting of the pooch with a 100% customer satisfaction guarantee. 
You can go with PortraitFlip's Royal Pet Portraits too to humor things a little bit.   
2. Snuffle Mats
A snuffle mat is a puzzle toy that provides mental stimulation to dogs. They mimic grass and are used to encourage the slower eating habits of pooch.
Instead of giving treats directly in a bowl, the kibbles are given in a snuffle mat and the doggy has to rummage strands of the mat to find the treats. Such fun for doggo!
3. Dog Mom or Dog Dad Cap
Dog-ma or paw caps are a perfect go-to for any dog lover. Gift a dog lover a cap once and they will always find an excuse to wear it.
4. Portable Dog Water Bottle
Long walks are fun and tiring for both- dogs and their parents. 
The hooman can sip water from the bottle to quench the thirst, but doggo can't as they need a bowl or a hollow surface to drink. Help out your dog lover friend with a portable dog water bottle. Just squeeze the base and water fills the bowl. 
Now your dog lover friend wouldn't have to carry a bowl every time he and his best friend goes out on a walk :)
5. FluffME Bandana
Bandanas come in a variety of colors and shapes, with various designs and messages that intensify the cuteness of a dog. A super-soft comfortable Bandana you can get for your pet is Captain Zack's FulffME Bandanas 
Apart from giving a dog a cool look, a bandana serves many purposes. 
It can be sprayed with calming pheromones so the doggy is relaxed when outside. Many pet owners prefer spraying anti-repellants on a bandana to keep insects away. 
6. Dog Welcome Mat
Replace your dog lover friend's boring doormat with an awesome Dog Welcome mat! It comes with funny dog messages and jokes that are sure to bring a smile to the guests' faces.
7. Personalized Dog Phone Case
Fancy Phone covers are too mainstream. Let your Dog lover friend switch up his style with a personalized dog phone case. 
Just get a good photo of your friend's pooch and create a customized phone case online or from the store and see your friend flaunt his phone cover every time he gets a chance. 
Apart from that, your friend will love to see the phone cover every time he misses his pooch.
8.Treats 

Who does not enjoy a good bunch of Treats? There are infinite good reasons to give our dogs treats. Sometimes it's as a reward, an in-between meal snack, or even a boredom-busting tool to keep them occupied and out of trouble. 
It is the best way to improve the bond between a pet and a pet parent! A perfectly healthy and nutritious treat for your pupper would be Captain Zack's Treats.
9. Toys 
The perfect way to spoil your pupper and keep them busy is by gifting them with interactive, fun, and sturdy toys. For pet owners, there's endless pleasure in watching your pooch have fun and playtime is a serious business for our canine friends. Captain Zack has all the fun you can squeak of!
Credentials:
Ajinkya Balapure - Content Writer
PortraitFlip E-Commerce Pvt. Ltd.