Articles
Animal-Assisted Therapy and Indies
May 24, 2021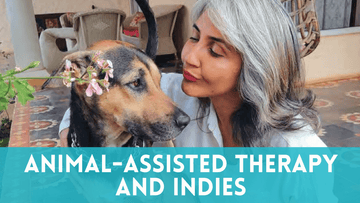 Animal-assisted therapy is the use of certified therapy animals as part of a therapeutic plan. Animal-assisted therapy has proven to be useful in bettering many conditions in humans, including but not limited to mental health conditions like anxiety, depression, ADHD, learning disabilities like Dyslexia, physical conditions like restricted movement or paralysis in children and adults. Patients in hospitals or assisted living homes often benefit from animal-assisted therapy as well. A range of animals can make excellent therapy animals, including horses, cats, and even alpacas. However, dogs are by far the most common type, tapping into the unique bond canines and humans share!
How Therapy Dogs Make a Difference?
Animal-assisted therapy teams consist of a certified therapy animal and a trained handler. The handler is often the owner or co-owner of the dog. These animal-assisted therapy teams visit hospitals, nursing homes, corporate offices, assisted living centers, children's homes, schools, and other types of facilities to help lift spirits, facilitate recovery, and provide education.

Therapy dogs visit with the sick and elderly, and sometimes perform by simply sitting by the person's side and patiently being petted. The target audience may go on walks with therapy dogs, play games with them, feed them, or groom them. Therapy dogs may be trained to sit quietly and attentively while children read to them. Many can help their handlers teach students about dog care and safety. Some therapy dogs have disabilities or limitations of their own, serving as an inspiration to humans with disabilities.
How does Temperament Testing work?
Bringing a dog home for a purpose (say to be raised to become a therapy dog) is as good as picking a candidate for a specific job. This dog's behavior patterns must be understood as a reaction to a variety of stimuli which is called Temperament testing. It can be best described as Human Resources matching the right candidate for the right job, that brings out her true potential. This ensures clarity since the beginning.
The process is as follows:
Understand the lifestyle of your family or home and pick a dog that best matches it.
Decide on the kind of work you'd like your dog to do and ask whether this matches with its personality.
Look at the mother's inherent behavior to understand your puppy.
Get in touch with a Therapy Dog Assessor and test the following:             
 Touch sensitivity
Genetic liking to be in a home environment (specifically your home)
 Any signs of anxiety or aggression that have been imprinted.
Traits of a dog that does Therapy work -
• Predictable and even-tempered to ensure a smooth career.
• Should thrive on getting attention and affection from humans, including strangers.
• No anxiety or aggression.
• Extremely well socialized (acclimatized) dog.
• Must enjoy the work she does.
• Must be sensitized to sights, sounds, surfaces, people, dogs.
• Good in crowds.
• Enjoy being handled, cuddled, petted all day long.
• Will not react at all to surprise behavior displayed by sensitive groups.
How Indie Dogs can be Therapeutic?

• They are playful, active and agile and hence keep you fit and active!
• Companionship! The most basic relationship between man and his best friend.
• They bring structure in your life primarily since they are creatures of habit.
• They can be your ticket out of social gatherings since they are definitely not extroverts for the most part.
• They push you to think out of the box! Living with an indie will make you sharper for sure!
Alternative jobs for Indie Dogs -
• They absolutely love sniffing work/games, including tracking.
• Being an integral part of the household – give them jobs like fetching things to you, like the daily newspaper or a plastic bottle. Better yet, teach them to assist you to switch the lights on and off!
• Agility star!
• Guarding dog for additional security with no extra training (instincts kick in here).
• Keep you on your toes! Push those greys further ahead in time.
Article by Ms. Pradnya Hattianagadi (Dog Assisted Therapist)
She is a certified dog-assisted therapist. She has worked across companies with her therapy dog Kiss - to assist people with varying problems.
The articles mentioned here are created from the experience – professional or personal of the contributors themselves. Please do not try anything without consulting your vet first. The views or opinions expressed on this platform belong solely to the contributors.