Articles
Quick Tips To Conquer Pet Odour!
Nov 25, 2020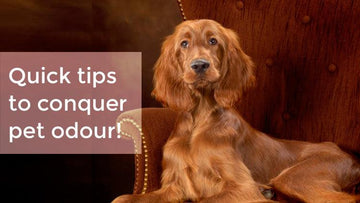 Pets are an inseparable part of our family. Our extreme concern for their well-being stems from an inherent need to ensure they are healthy and safe.
We go out of our way to take care of them and give them a good quality of life. No compromises, whatsoever.
As is true of humans, pets too have their share of natural body odours which need to be addressed and managed effectively so as to keep the pet and human family comfortable. Both are interdependent and the more at ease they are the more relaxed the ambiance.
Given below are a few tips to effectively control and remove pet odours:
1. Regular Grooming
The most effective way of managing pet odours is to tackle it at the source: your pet. I highly recommend investing in the latest special range of perfumes launched by Captain Zack called the 'Pawtesserie Range of Pet Perfumes' which have been inspired by classic vintage French bakeries full of warmth and comfort. The fragrances come in three delicate flavour infusions with human-grade food flavour which are absolutely safe for pets and humans as well. This unique range of pet perfumes has no sweet flavour, is absolutely safe for pets, contains no alcohol, no parabens, and no nasty chemicals or skin irritants. They are long-lasting and non-toxic. They also contain Aloe Vera and Vitamin-E to ensure your pets' coat and skin remain healthy and moisturized.
The following are the three fragrances you can choose from:
Captain Zack's Blueberry Clafouti Flavoured Scent -  is a gorgeous fragrance with the flavour of freshly baked blueberries and is delicately infused with Aloe Vera and Vitamin-E to keep your pets' coat and skin healthy while smelling heavenly.

Captain Zack's Choconut Gateau Flavoured Scent

– This chocolate and hazelnut fragrance will have your pet smelling as rich and fancy as a French gateau. Delicately infused with Aloe Vera extract and Vitamin-E, it will be happily welcomed by your pet.
Captain Zack's Butterscotch Eclair Flavoured Scent – Inspired by delicious flaky eclairs filled with butterscotch pastry cream, this fragrance will transport your pet and you to a French patisserie. It has also got Aloe Vera and Vitamin-E to add to that oomph.
None of these fragrances contain chocolate or nuts. These scents only smell of Blueberry, Choconut & Butterscotch
Choose any one or all of the above to treat your pet and yourself to a one-of-its'-kind aroma experience. These flavoured scents are a must-have to keep your pet smelling fresh and amazing.
Apart from these you should clean their paws with pet wipes after every walk and take them to a professional grooming salon at least once a month.
2. Purify the air
For a long-term solution use an air purifier with anti-odour filters
3. Clean up thoroughly
If your pet has had a hygiene mishap, clean up the area thoroughly with odour removers and deodorizers to prevent them from going back and repeating the action. This helps in preventing future mishaps
4. Off furniture policy
We all are guilty of allowing our pets on our beds, on sofas, or just about anywhere in the house, which can lead to a number of smelly odours that are highly uncomfortable to live with. Train your pet to sleep in their own designated bed. Dissuade them from sleeping with you or sitting on the sofa. This leads to the odours seeping into materials which over time literally raise up a stink.
5. Wash & Dry Your Pets' Bedding
It is vital to regularly wash all your pets' belongings. These include pet beds, pet bed sheets, blankets, sofa covers, etc. This ensures your pet is not sitting on its' own odours. It is a lost cause if they are bathed and groomed to go right back and sit in a smelly place.
Pet odours can be a point of concern for pet parents, especially if any family member is allergic or sensitive to pet scents. The different odours given out by your pet such as wet fur or litter box scent can leave your home smelling stale and less than fresh, not to forget the hygiene factor which gets highly compromised.
Try the latest Captain Zack's Pawtisserie Range of exclusive dog scents which have delicious flavoured scents along with the tips mentioned above to keep your pet and home smelling amazing.
Article By,
Juhi Pawar
Founder, Furry Friend's Grooming Salon &
Pet Grooming Faculty Captain Zack's University of Barkley