Articles
The Benefits Of Dog Treats
Jun 11, 2021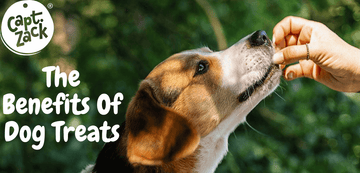 "If you have food, I will accept you in a flash in my heart." - Every doggo ever
There's a saying that you're what you eat, and the same can be applied to your pet. Diet has a very important role in shaping up your doggo's life, and what they consume has a direct impact on their physical and mental health. Deciding to go natural with your pet's food is an important and excellent step. Towards it.
One of the easiest ways to incorporate natural food into your pooch's diet is by starting out with their most favorite thing - Treats! All-natural dog treats are of superior quality, with a lot of health benefits and no (Proven) adverse health effects.
Here are some ways treats can benefit your dog:
Add extra nutrition & healthy supplements to your pet's diet

Use it as a part of training and as a positive reward for good behavior

Long-lasting chew treats can help relieve boredom and reduce destructive behavior

Dental treats and gnaws can promote healthy teeth and provide oral care

Dog's love treats, and we love giving them! But remember: If you're feeding treats, reduce the amount of kibble you give your dog so they stick to their energy intake for the day.
For optimum dog health, feeding a balanced, nutritional diet is key – and this extends to treats as well.  Natural dog treats are increasingly popular among conscientious pet owners who understand the importance of rewards that are both healthy and tasty. 
Natural dog treats are usually rich in ingredients derived from natural sources and free from artificial additives, chemicals, and preservatives, combinations of good quality meats, vegetables, and gentle grains are prepared and packaged to national regulations for a treat your dog can enjoy with no adverse after-effects.
Keep reading to find out exactly what sets natural dog treats apart from artificial alternatives -
Wholesome nutrition
Natural dog treats use good quality ingredients, often, the packaging can give you a clue as to the exact constitution of the treat. When reading the ingredients list, look out for the type of meats used – natural treats may state chicken, beef, or another type of meat, whereas artificial and lower-quality dog treats often simply state 'meat and animal derivatives' – this can mean any part of any animal, including fur and feathers.
Free from hormones
A lot of dog treats contain artificial and low-quality ingredients made from animals that have been previously pumped with antibiotics and hormones. Hormones are given to pets from an early age for muscle development and growth, while antibiotics work as protection from illnesses.
Non-fattening
Dog's love chewing, even if they are of a healthy weight or a little heavier. Keeping your dog in shape by cutting out on treats can be a little difficult for your furry ones. In such cases, opting for all-natural dog treats is always a good idea as it contains fewer calories compared to other conventional pet treats.
Better Dental Health
Natural treats do not contain artificial sweeteners or other harmful chemicals that can be detrimental to your pet's oral health. Instead, it can help maintain healthy teeth and gums. Choose hard treats or soft treats depending on the age and oral health of your doggo.
Mental Well-Being
Highly processed treats cause irritation and create an imbalance in the gut flora, which is integral for a positive mood and good mental health. Moreover, just like humans, your dog's stomach, heart, and brain are sensitive to what they eat or drink. Any kind of imbalance can contribute to inflammation and stress, thus affecting them mentally.
Gentle Digestion
Dogs like people can suffer from allergies and intolerances to ingredients in foods. Switching from a low-quality treat to natural dog treats can reduce inflammation and lessen the severity of allergic reactions as a result of the superior protein and grain sources used. Natural dog treats are easy to digest and gentle on the stomach, the high-quality ingredients mean less wastage as the dog's body can use more of the matter, and often less smelly excrement too.
The only treats your pet will ever need and buy them in bulk while you're at it! The all-new Captain Zack Jerky Treats is a Complete Treat to make sure your doggo gets all the nutrients, vitamins, minerals & love! 
Maintaining a natural diet from a young age will also ensure that your doggo remains fit and active even in old age.
Article By Gayatri Marwah
An active animal welfare activist and an ardent dog lover, she has been feeding her delicious treats to dogs across the country. She runs her own business of dog food called Pupcake Factory when she's not feeding the stray dogs.
The articles mentioned here are created from the experience – professional or personal of the contributors themselves. Please do not try anything without consulting your vet first. The views or opinions expressed on this platform belong solely to the contributors.